Exibition
Grzegorz Drozd Alicja Łukasiak ETERNAL SUMMER
This is another exhibition of Alicja Łukasiak and Grzegorz Drozd being the result of nomadic walking in Southeast Asia, which they have been achieving for the last six years. As they say, they symbolically left the west culture, to draw inspiration with the unknown cultures and nature. They lived and worked in a specially built mobile studio, which has allowed them to reach interesting places and people. The effects of this process, we are going to see during the demonstration which has been built on the principle of affiliation the space which has a clear and determined character. This luxurious Hotel Bristol Art and Medical Spa in Busko-Zdrój is a place of healing and relaxation with the most modern medical facilities and a wellness spa. Its owners, Dorota and Tomasz Tworek want the therapy to become an art which will awake in us what is the best. Eternal Summer is the show entering into a relationship with a collection of art that fills Hotel Bristol Art & Medical SPA. Its title, contains a longing and desire. It is a story about the time and its understanding. It moves us to the blue sky, warm sea water and tropical vegetation. It mines our imagination from the narrow corridors of the streets, the night sky without stars to places, where we will find the harmony. It shows us the value of contact with the and says nature about the joy of returning to the "Big garden. " In the land of eternal summer, there will be dark clouds and cold days as well. Thanks to them we will experience once again the reflection about the state of the environment and activation of the human being. The work of Alicja Łukasiak and Grzegorz Drozd was dominated by the cult of nature. Their works are a demonstration of a return to manual labor and to the creative process stemming from a physical experience.
ART BRISTOL is a long-term project, assuming a series of exhibitions of contemporary art organized by the Foundation for New Space of Arts and Hotel Bristol Art & Medical SPA. Each show will be based on the relationship with the nature and function of the Bristol Busko-Zdroj and the art collection of Dorota and Tomasz Tworek which will be stored and exposed in the facility.
Invited artists will enter into a relationship with space and individual works from the collection, introducing an element of a change. The Convention of the show, except art objects, involves a number of performing events , which fit the character of the Hotel Bristol Busko-Zdroj, as a place where art and relaxation play a special role. Alicja Łukasiak (born in 1975) She lives in Warsaw and in South-East Asia. An artist interested in nature, in which he analyzes man as a species dominant. On the one hand it shows its destructive impact on the environment, On the other hand, he tries to show the beauty and diversity of life. Life is for her A phenomenal phenomenon and artistic creativity as a form of emotional revelation. ieści. In her work, fauna and flora are subject to impersonation by which insects do Plants are subject to the laws imposed by the overriding form of existence - human. She graduated from the Faculty of Arts at UMCS in Lublin. Scholarship holder Ministry of Culture and National Heritage and Visegrad Foundation. She participated in numerous exhibitions in Poland and abroad. Since 2003 he has been contributing Together with Grzegorz Drozd, the project of changing the Movement Organization (ZOR) Grzegorz Drozd (born 1970) She lives in Warsaw and in South-East Asia. Artist versatile, vigilant observer of the reality he describes Own language, building uncomfortable and surprising situations, often without scenario. A player with a convention and a ritual, leading the art out of brackets conventionality. Manipulator, on his own account declaring: "artist is for me ban- Social ita and criminal ". The relational, participating, author of the works will be- A vehicle of personal emotion. In 2010 it symbolically "left" the culture West, guiding its nomadic wandering towards the far south Asia, looking for "Lost Paradise". Since then, it has been moving in space Culturally open ". In the years 1992-1995 he studied at the Faculty of Arts at UMCS in Lublin. IN 2007 graduated from the Faculty of Painting and Sculpture Faculty of the Academy of Fine Arts in Warsaw. He participated in several artistic residences, received several times Small scholarship of the Minister of Culture and National Heritage. He participated in the lic- Other collective exhibitions in Poland and abroad. Since 2003 he has co-created with Alicia Lukasiak Project Change of Movement Organization (ZOR)
17 Suns, oil on canvas, Grzegorz Drozd, 2014
"Błyskotki" to zestaw prac codziennego użytku, np. budka telefoniczna, kubeł na śmieci , betoniarka czy stary samochód garbus ustawiony w przestrzeni publicznej. Artysta okleja całe obiekty lusterkami na wzór kuli dyskotekowej, sprawia by błyszczały w sposób dosłowny i przenośny.
Większość "Błyskotek" po metamorfozie pozostaje w miejscu, gdzie znalazł je artysta. Gest artystyczny ogranicza się do ich wybrania, przybrania, sfotografowania ich, często w warunkach nocnych, z efektami feerii migoczących, dyskotekowych odblasków. Tylko niektóre z "Błyskotek" stały się galeryjnymi obiektami artystycznymi.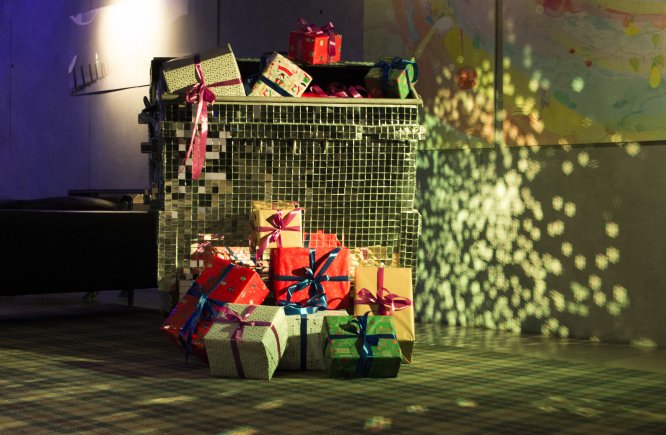 Still Life GMO, ceramics, metal, wood, Alice Łukasiak, 2017
Od 11 października do 30 listopada 2018 roku w przestrzeni miejskiej miasta Busko-Zdrój mogliśmy zobaczyć nowe prace znanego młodego polskiego artysty Bartosza Kokosiśnkiego. Monumentalne "Portale"
poruszają temat, o którym powszechnie nie mówi się – wydobycie rud koniecznych do produkcji telefonów komórkowych. Nasze kieszonkowe smartfony naznaczone są z jednej strony radością osób użytkujących je, a z drugiej - cierpieniem tych, którzy mają styczność ze szkodliwymi substancjami, elektrośmieciami. Ciemną stronę naszych podręcznych komputerów mogliśmy poznać skanując QR kod zamieszczony na boku każdej z pracy. Budowa kodu umożliwia jego odczyt na przedmiotach za pomocą skanera (czytnika QR kodów).
Plastics, tempera on paper, Alice Łukasiak, 2014
Prezentacja prac fotografika Grzegorza Sidła odbyła się w ramach Nagrody Specjalnej, którą artysta otrzymał za zestaw fotografii w 41 Interdyscyplinarnym Konkursie Plastycznym Województwa Świętokrzyskiego Przedwiośnie organizowanym przez Biuro Wystaw Artystycznych w Kielcach.
Cykl "Krajobraz minimalnie uproszczony" pokazuje nam trzy oblicza ziemi świętokrzyskiej - pierwszy - minimalnie uproszczony krajobraz zimowy w kolorach monochromatyczny bieli i czerni - drugi - krajobraz budzący niepokój zmieniającym się niebem słoneczno-burzliwym - trzeci - bajkowy krajobraz leśny.